Should I invest in my company's 401k plan? The answer is YES!!! Take advantage of your company sponsored 401k retirement plan.
Government programs for retirement income, like social security, are becoming very unpromising. And retirement healthcare has been so up in the air lately in the political world. So many changes…who can keep track?! A Company paid Pension Plans are almost extinct now, too!
Well one thing that I do know is that no one is guaranteed to pay for your future…except for you!  If your employer doesn't offer a 401k, then you should think about planning for retirement without a 401k plan.
Reasons why to invest in your company sponsored 401k retirement plan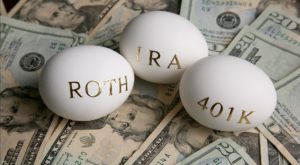 Most plans have a match % (which means they give you the matched amount for FREE! If you don't invest at least the matched amount, you are missing out on free money!
The money is invested pre-tax, out of your paycheck before the taxes are taken out.
Yes, the plan is often based on funds that are based on the stock market (so there is some risk involved), but that means the potential for growth is big! Remember, the bigger the risk, the bigger the potential returns.
You do usually have the power to choose your risk and diversify! Many companies offer "safer" choices for employees nearing retirement (usually funds recommend to have more aggressive investment strategies when you are younger, and safer ones as you get older.
The fund always has an investment manager or help person that you can ask questions to! They can help you pick what is best for you, your family and your future!
You can use our free 401k calculator to find out how much money you should be saving, based on your age and expenses.
Have you been putting any money into your 401k, yet? Do you wish you would have started sooner?